---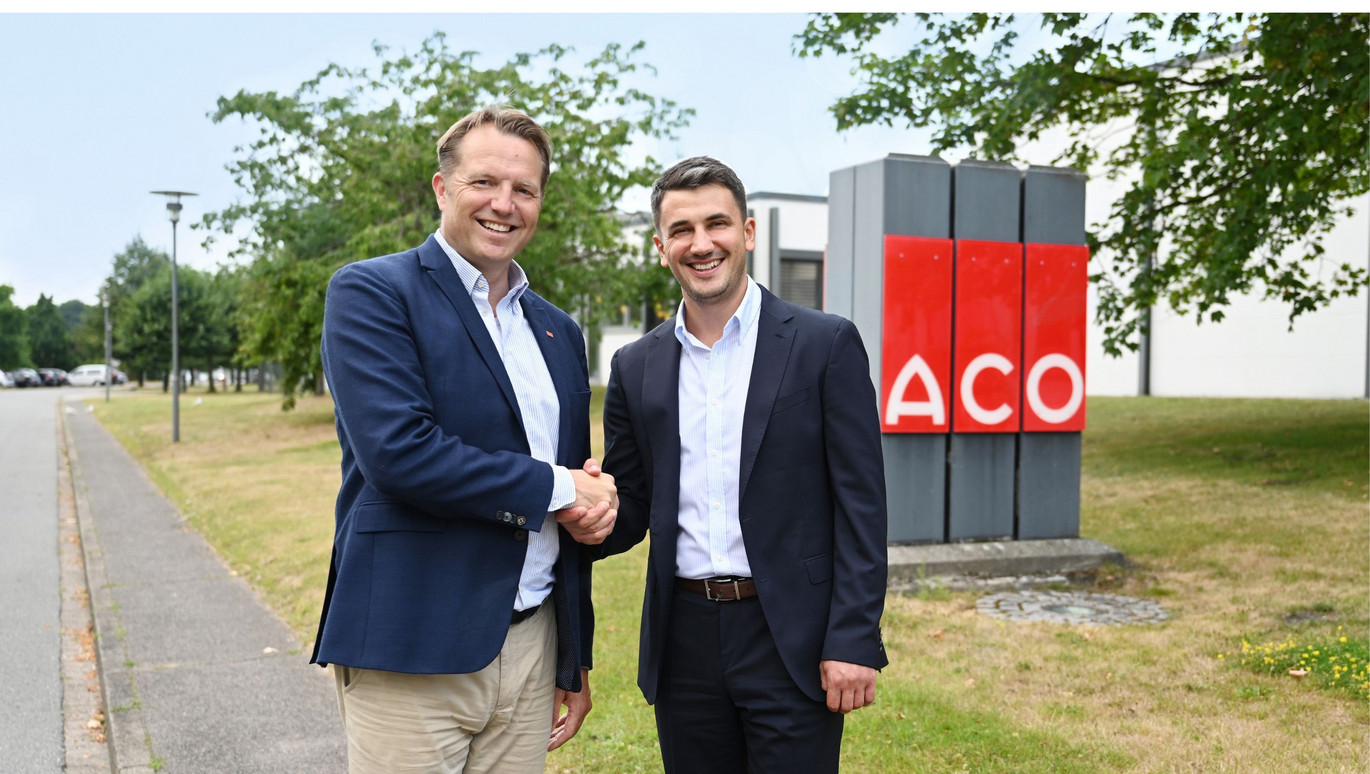 Thomas Bendixen, Managing Director at ACO (left) and Alexander Airich, future Managing Director of the German ACO Tiefbau Vertrieb GmbH (right). (Photo: ACO)
Alexander Airich becomes Managing Director of ACO Tiefbau
PRESS RELEASE
Büdelsdorf, 17.08.2022
Alexander Airich will take over as Managing Director of the German ACO Tiefbau Vertrieb GmbH on 1 September, succeeding Francesco Vitale. Alexander Airich began his career with the ACO Group in 2008 with an apprenticeship as an industrial clerk and studied business administration with a focus on marketing while working. After holding positions in sales and international product management, he has been Managing Director of the ACO Competence Centre for Rainwater Management and Wastewater Technology in Bürstadt for three years and part of the management team of ACO Tiefbau. The 34-year-old is married and father of three children.

"ACO Tiefbau has stood for innovation and reliability for decades. The partnership with the building materials trade and - especially in the project business - with the planning and tendering bodies and the processing construction companies are the central pillars here. What I look forward to most is working with our partners in the market, as we are facing great challenges, but also opportunities, especially in the field of rainwater management, which we can only tackle together. In this respect, I attach great importance to listening to our dialogue partners, their needs and current developments," says Alexander Airich.

His predecessor Francesco Vitale was responsible for ACO Tiefbau as Managing Director since 2010, initially in Italy and Switzerland and since 2015 in Germany. In connection with Alexander Airich's appointment, he was offered the position of Group Managing Director for an international country group within ACO Holding as a further development. For personal reasons, he has decided not to take this step and will pursue new challenges outside the ACO Group. "We are extremely sorry to see Francesco Vitale leave, especially as he has impressively modernised ACO Tiefbau with his team over the last seven years and developed it very successfully in the market. We wish him all the best for the future. At the same time, we are of course delighted that we have been able to recruit Alexander Airich, a young, market-competent manager with an excellent network at ACO, from our own talent pool for this important task," says Thomas Bendixen, spokesman for the management at ACO in Germany, commenting on the changes.

About ACO Tiefbau
Urbanisation, climate change and environmental protection require sustainable and efficient systems for surface drainage, rainwater treatment and water protection. The ACO Tiefbau division creates system solutions for traffic infrastructures. These ensure reliable drainage on roads and squares as well as on areas subject to particular stress such as motorways or airports. The civil engineering systems offer solutions for all steps along the ACO system chain: they collect wastewater from roads and surfaces and clean it as required. They then store and drain it in such a way that it can be reused in the water cycle in a controlled manner. The ACO Group employs over 5,300 people worldwide, including over 1,500 in Germany in three sales divisions and seven production plants.
More Information about ACO Tiefbau.