---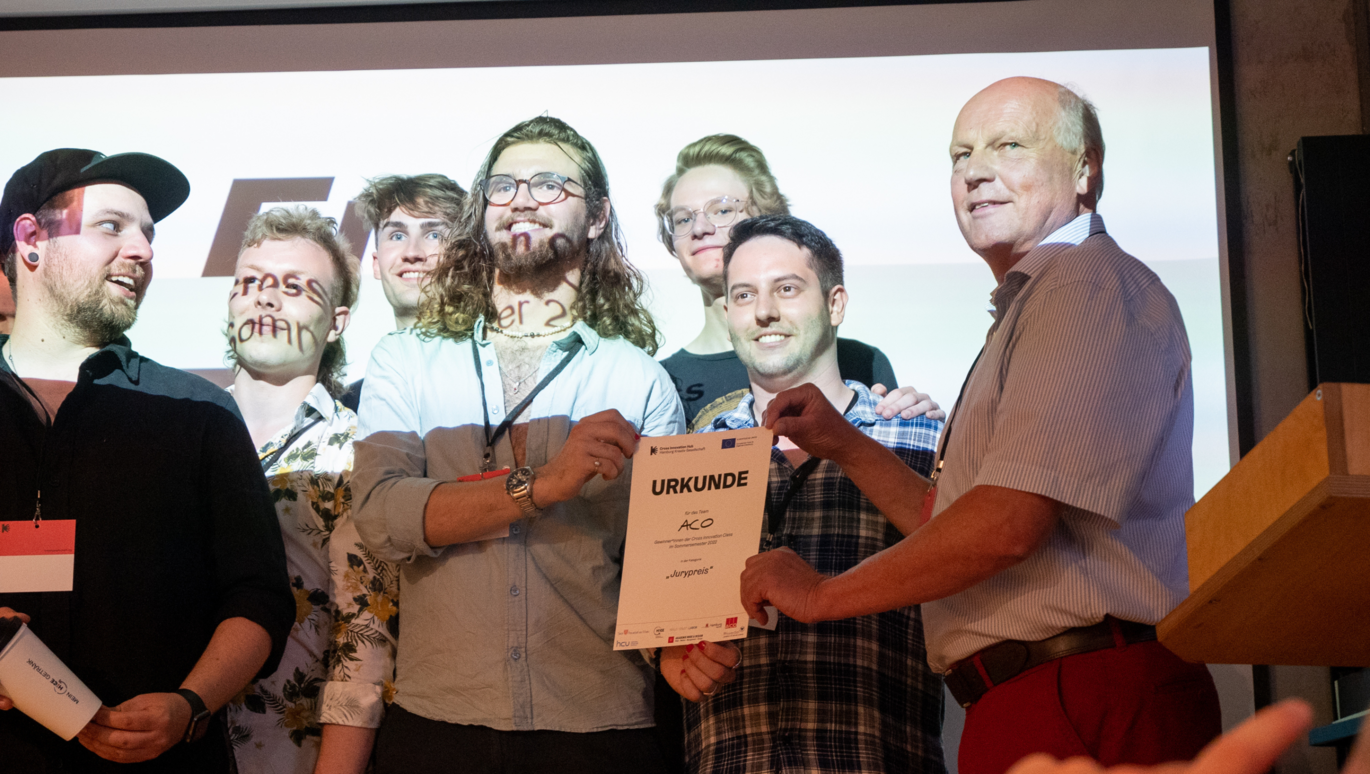 Innovation award for smart water storage by ACO student team
In the "Cross Innovation Class" competition organized by Hamburg Kreativ Gesellschaft, ACO won the jury prize together with a team of students. The six-member team developed an intelligent solution for the city of the future: a digitally controlled rainwater storage tank with a water dispenser that can be used by the public.
The sensible storage and use of water is one of the major challenges in designing sustainable cities with quality of life. Climate change is increasingly causing long periods of drought and heavy rain. Thus, clean water is becoming more and more precious as a resource. This is where we at ACO are in our element. With the ACO system chain, water can be collected from sealed surfaces, cleaned underground, and stored intelligently so that it can be used wisely when needed - for example, for street cleaning and for watering shady trees in the city.
Free watering water via app
The idea of the student group supervised by ACO fits perfectly into this concept. The task for the team was: How can urban drainage infrastructure be protected from heavy rain using smart systems? Now the group presented their solution: A smart rainwater storage tank with a digitally controlled pump and a water dispenser for the public. Similar to bike or car sharing, users would be able to see the location of the dispenser, the availability and the quality of the water via app. This would allow city residents to use the stored water to water flower beds and shrubs for free.
Innovative prototype is further developed
The Cross Innovation Class is a competition organized by Hamburg Kreativ Gesellschaft. Students from the departments of IT engineering, design, urban planning and computer science at HafenCity University Hamburg, Wedel University of Applied Sciences and the Academy of Fashion & Design develop innovative prototypes together with practical partners. The theme of the Cross Innovation Class 2022 was "Resilient Cities".
ACO is involved as a practice partner. At an Innovation Day in September, ACO will continue to work with the student team on the implementation of design, function and equipment with smart technology.
Foto: Jan-Marius Komorek/Hamburg Kreativ Gesellschaft