Vatroslav Lisinski Square, Osijek, Croatia
Vatroslav Lisinski Square in Osijek shines like new: it was restructured and renovated as part of the 'Old bakery' project worth HRK 66 million, of which almost 52 million was funded by the European Union. In place of the previous non-landscaped parking area covering ​​6,882 m2, the citizens of Osijek now enjoy a contemporary space for various cultural and social events. The reconstruction and rehabilitation project on the square was carried out by the TIM Studio, according to the conceptual design by architects Maja Šantić and Tea Tomić. Their competition-winning design solved the problem of redefining and revitalizing the previously neglected urban space, creating contemporary elements in harmony with the historical environment. The area of ​​the square is structured as a series of three units on different levels. Each contains a specific architectural element: a pavilion on the upper level, a fountain on the lower level, and between them, a lounge / sitting / observation area.
ACO solutions for the square
The square is surrounded on three sides by an aisle where we used Wotan tree protection units – cast iron gratings that protect the roots of the trees – and metal fence elements that protect the trunks from external damage. Line drainage is provided over the entire surface of the square by ACO Qmax high-capacity channels with discreet drainage slits on the surface. Installation used strategically placed LED lighting to create an elegant appearance on the paved surface of the square. The TopTek Paving manhole covers are ideal for pedestrian surfaces, as they can be filled with full-height concrete pavers – thus extending the service life, at the same time as being discreet and safe for pedestrian traffic.
Picture gallery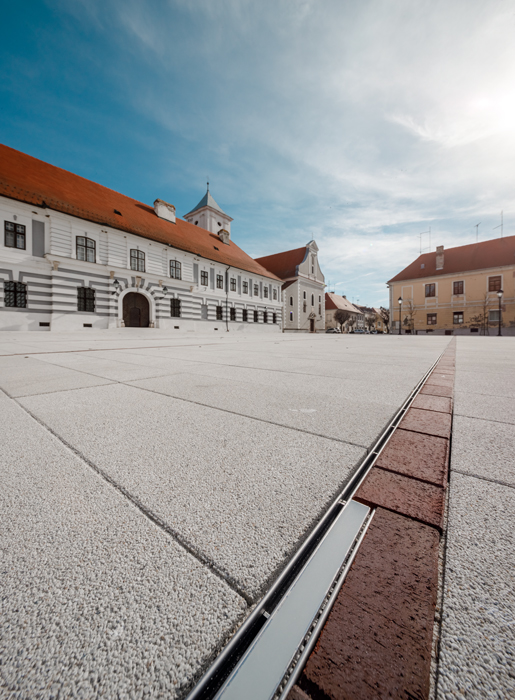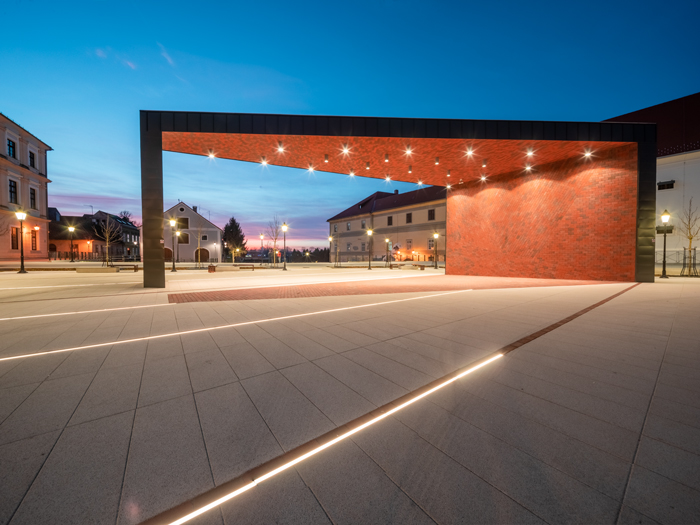 Object: Vatroslav Lisinski Square
Location: Osijek, Croatia
ACO Products: Qmax high capacity slot drainage, Wotan tree protection system, TopTek cover